2016 Sweet Adelines International Quartet Competitors singing David Harrington arrangements! (GQ, Glamour, Boss., Skyline, Lustre, and Windsor!)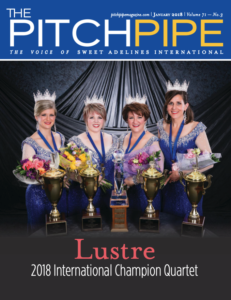 2018 SAI QUEENS
Lustre grabbed the championship in Las Vegas with a record setting score or 2935! They continue to thrill audiences with David Harrington's arrangements of "If I Had My Way" and "Bring Me Sunshine"!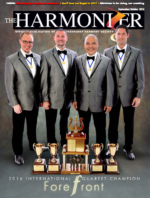 2016 BHS CHAMPS
The epic David Harrington chart "Georgia On My Mind" (2017 CARA Runner-up for Best Barbershop Song!) is a constant in Forefront's repertoire. They've thrilled audiences time and time again with this Ray Charles HIT, and have featured it on two of their releases! Forefront has also sung the DH charts "You Don't Know Me" and "Indiana".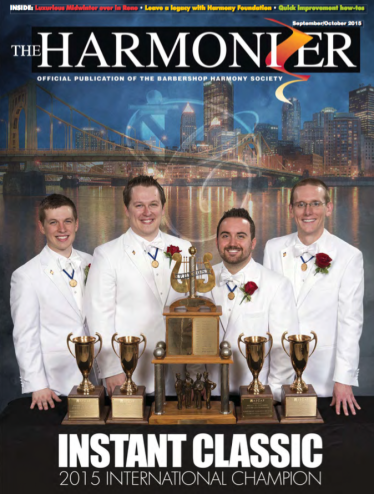 2015 BHS CHAMPS
Instant Classic often teams up with SAI star quartet, GQ, to rock the house with David Harrington's "Hello My Baby" for mixed voices!!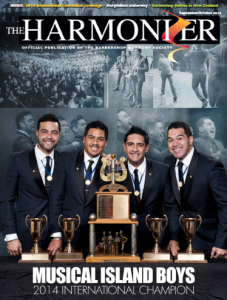 2014 BHS CHAMPS
Musical Island Boys, influenced heavily by the recordings of The Second Edition (David Harrington – lead), enjoy singing DH charts such as "Hello My Baby", "When My Sugar Walks Down The Street", and "Strike Up The Band Medley".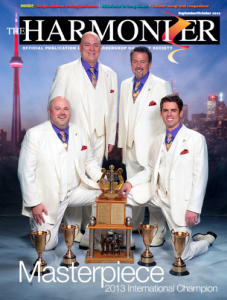 2013 BHS CHAMPS
California based champs, Masterpiece, recorded David Harrington's chart of "I Get The Blues When It Rains" on their 2016 release "Let's Live it up!"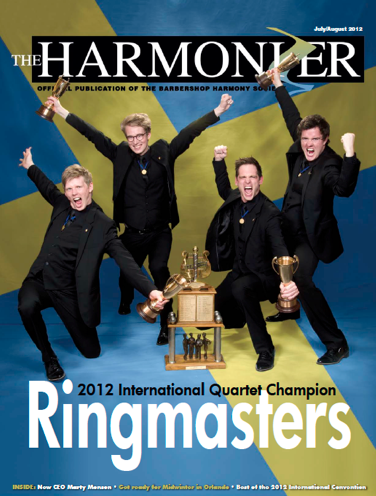 2012 BHS CHAMPS
Ringmasters, from Sweden, captures audiences with thrilling performances of David Harrington charts like "Oh! Darling", "Eight Days A Week", "You And I", "She's Out Of My Life", "Great Day", "So Much In Love", "Hello My Baby" and "I Can't Give You Anything But Love"!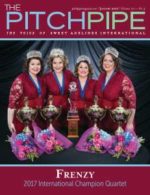 2017 SAI QUEENS
Hailing from the great Northwest and Canada, Frenzy loves performing David Harrington's arrangement of "It Is Well With My Soul" as one of their favorite showstoppers!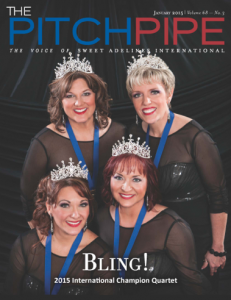 2015 SAI QUEENS
Making a huge splash in their 2012 quartet finals package with David Harrington's chart of "Feeling Good", Bling! continues feeling good by having won the Sweet Adelines International quartet championship in Baltimore in Nov. 2014!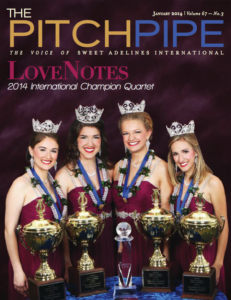 2014 SAI QUEENS
The only quartet hold both the title of Sweet Adelines International Rising Star Champions (under the name UnderAge) AND Sweet Adelines International Queens of Harmony, LoveNotes recorded David Harrington's chart of "I Will" on there 2016 release, "Friends"!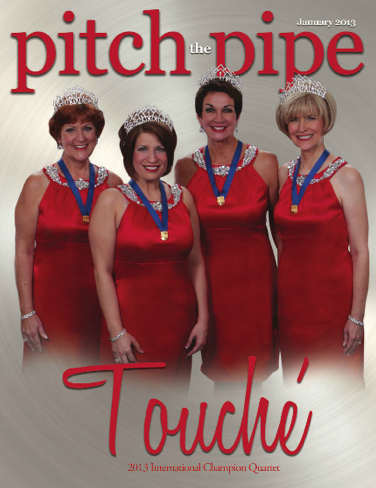 2013 SAI QUEENS
Touché thrilled the crowd performing David Harrington's arrangement of the Ella Fitzgerald classic, "A-Tisket, A-Tasket" during their winning quartet finals package in Denver, CO! This and David's classic chart "It Is Well With My Soul" are both on their self-titled release!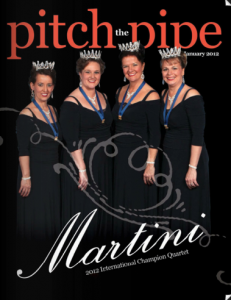 2012 SAI QUEENS
Martini, hailing for Canada, GA and WI, recorded David Harrington's exciting arrangement of "Jingle Bells" ala Barbra Streisand, on their release "With a Holiday Twist!"
The Second Edition and Growing Girls CDs
Own three legendary recordings re-mastered from the original reels and available for the first time in over two decades!